Unbelievably, the 10th anniversary of Stone's and Holt's deaths will be in July. We will always ache so for all they have lost.
Ten years ago this spring, Stone was excitedly finishing last details for Douglas Brinkley on The Wilderness Warrior: Theodore Roosevelt and the Crusade for America. Holt was excitedy anticipating his move to Rice University where he would be studying history, and spending the summer again working at the Baker Institute alongside Stone. They each had big plans, big hopes, big dreams. And they were so happy to be living close together again.
Now we so painfully understand how a random, senseless moment can so cruelly cut down young, beautiful lives. And all the collateral damage.
In one of the first newsletters, we wrote that among Stone's and Holt's books was a copy of What We Owe to Each Other by T.M. Scanlon. This phrase, so bound to the spirits of Holt and of Stone, has become for us a guiding principle of The Foundation -- and an ineffable echo of what we owe to Stone and to Holt. As we have said and continue to say, they were each so eager to do so much more.
****
Coming Up
** St Andrew's Episcopal School will present The Stone Taylor Weeks Award for Excellence in the Study of History on Thursday morning, June 6. Thank you to Stone's friend Rob Bouknight who will represent us and take photographs.
** Our sponsorship of young people with Muscular Dystrophy to attend the Washington area MDA summer camp in mid-June -- and to attend the Chicago area MDA summer camp in early July. We also send annual gifts for all campers. Our commitment is in honor of Stone's commitment to volunteering as an MDA counselor. The official MDA camp video is very moving.
** Holt's and Stone's Houston friends are planning We Kare-eoke *Houston* for August 24, 8 pm until midnight at Grand Prize Bar in Houston. They will be there to represent us. Thank you to all dear Houston friends, led by the amazing Jennifer Condi. The night will again benefit The Beacon of Houston, the huge day center for Houston's homeless people, where Stone and Holt and Jennifer volunteered.
** There will be another Fall Nature Field Trip to Audubon Naturalist Society for more underserved DC area public school students.
** And another We Kare-eoke *Washington* is being planned by Holt's and Stone's Washington friends for October, this year to benefit Environment America. There may be changes; there will be more to know soon.
****
** In April, Stone's little brother in Pi Kappa Phi at The University of Delaware, Bobby Bartocci, organized this year's Humanitarian Award named for Stone and Holt. The fraternity's Philanthropy Chair, Ryan Chegwidden, received the award as "he best exemplifies the selfless dedication to help others that Stone and Holt Weeks both personified." A donation in honor of Ryan was made to Pi Kappa Phi's national charity, The Ability Experience, benefitting people with disabilities. Past recipients are here.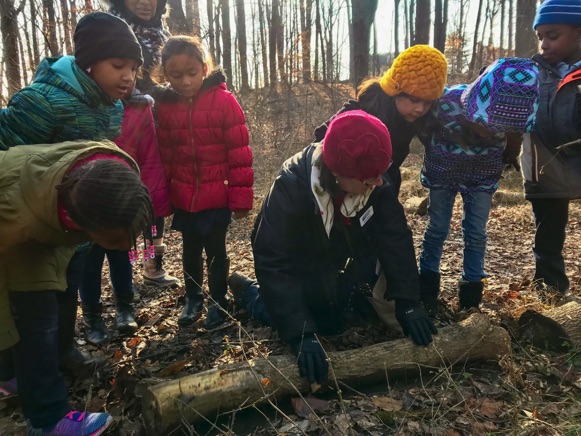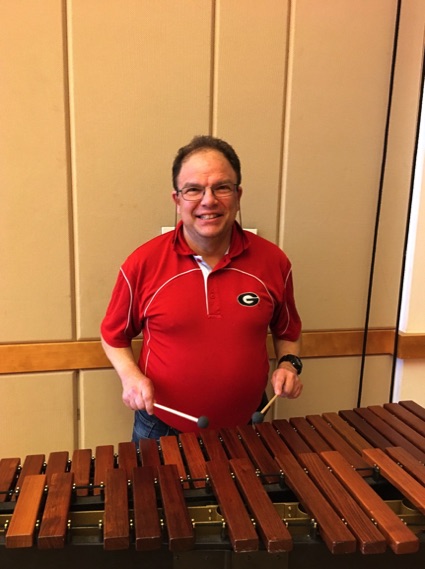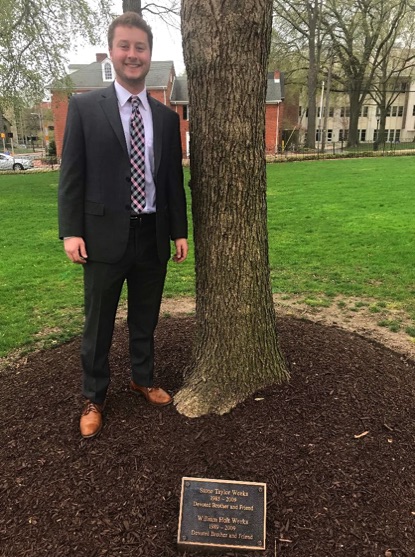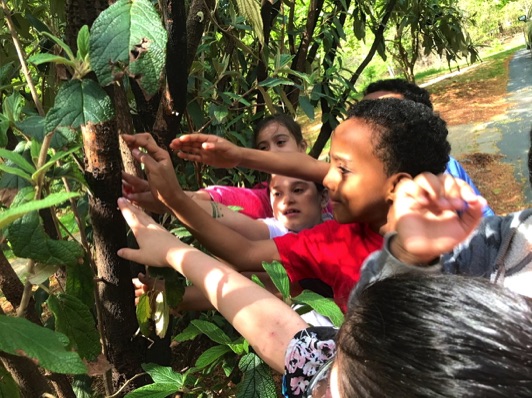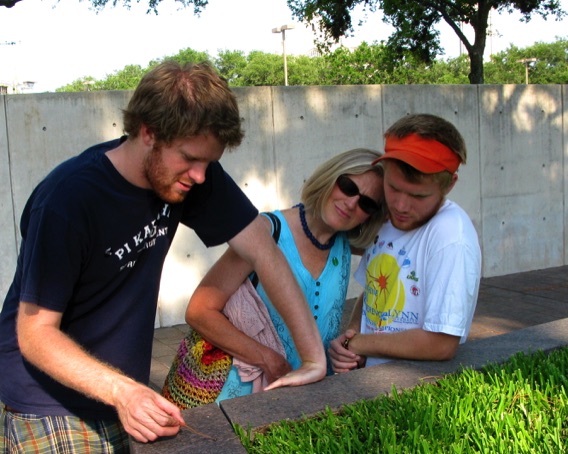 Stone and Holt with Jan in Houston, Summer 2009
** Educa, a program that gives Washington-area public school educators an immersive experience in El Salvador to enhance understanding of, and build more meaningful relationships with, their at-risk Salvadoran students. Educa is part of Laberinto Projects, "an arts, culture and education platform that fosters art practices, legacy preservation, social inclusion and dialogue in El Salvador, Central America and its diaspora." Educa is the brainchild of several caring people, including Holt's friend, Caroline Lacey.
Teachers who were helped by our contribution wrote to us:
....it's up to us as teachers to challenge the dominant narratives that seek to dehumanize and reduce El Salvador to a violent image.
....many of my students are unaccompanied minors.... it means so much to them that their teacher has seen and experienced their country.
....If I want to empower my students' identities, I must expose them to Salvadorans of all backgrounds and experiences who are thriving, resisting, painting, acting, cooking, remembering, sharing and living in every way one can imagine.
Describing how Educa has affected its participants, Caroline wrote, "We thank Stone and Holt for their beautiful lives that continue to push forward the ideas they cared about and continue to hold us accountable for What We Owe to Each Other."
** The Foundation sponsored the Fall 2018 Nature Field Trip at the Audubon Naturalist Society's Woodend sanctuary -- and a preparatory visit by ANS in the classroom. More photographs are here. Past recipients are here. Serenella Linares, School Programs Manager with ANS, wrote:
Your contributions allowed us to visit the classroom of the first graders at Takoma Education Campus in DC, where we talked about Decomposers.
During that visit we learned the important role that FBI (Fungi, Bacteria, & Invertebrates) have in the ecosystem by cycling the nutrients and helping plants grow. We also explored our portable compost bin and invited children to handle live earthworms in preparation to their field trip visit.
.... we had 2 fantastic visits by the students, who truly enjoyed observing birds in their natural habitat, learning about our Tree-Safe raingarden, and exploring the forest to find our new friends, the decomposers. We observed how their demeanor changed from shy and timid to excited and joyful -- thanks to their nature exploration.
First-grade students from D.C. learn to care about the natural world from Audubon Naturalist teachers
Mo Kerry, recipient of interPLAY Orchestra's Stone and Holt Weeks Foundation Scholarship
** In memory of Holt and of Stone, and in honor of our administrator, Susan Park, The Foundation provides annual support for a deserving musical participant in interPLAY Orchestra. The non-profit provides musical opportunities for adults with cognitive and physical disabilities to rehearse and perform year round at the Music Center at Strathmore in North Bethesda, MD. Susan is also on the board of interPLAY. The 2019 scholarship was awarded to Maurice "Mo" Kelly. Past recipients are here.
Ryan Chegwidden, Pi Kappa Phi Theta Nu's recipient of The Humanitarian Award
named for Stone and for Holt
** On April 22, Earth Day and the day after what would have been Holt's 30th birthday, Audubon Naturalist Society led the Foundation sponsored Spring Nature Field Trip.  Students from Center City PCS - Brightwood Campus in DC were treated to a classroom visit, and then a bus ride to Woodend Sanctuary for the hands-on nature experience. More photographs are here. Past recipients are here.
D.C. Third- and Fourth- graders experience the natural world at Audubon's Woodend Sanctuary
** Holt's friend Nathan Barash presented The William Holt Weeks Leadership Award during Awards Night at Holt's alma mater Walter Johnson High School on Monday evening, May 20. Carli Schell was this year's recipient. She will attend The University of Florida in the fall. Thank you to Nathan -- and to Holt's friend David Joffe for taking photographs. Past recipients are here.
****
Carli Schell receiving Holt's Leadership Award from Nathan Barash
Educa participants in San Salvador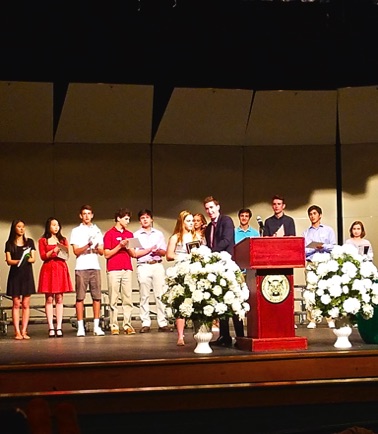 Recent Loving Tributes to Holt and Stone: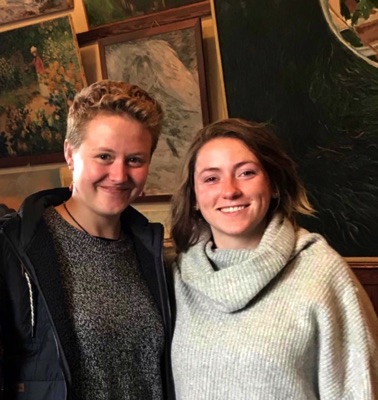 Hannah Terrell, Linfield College, and Delaney Conway, The University of Texas, Austin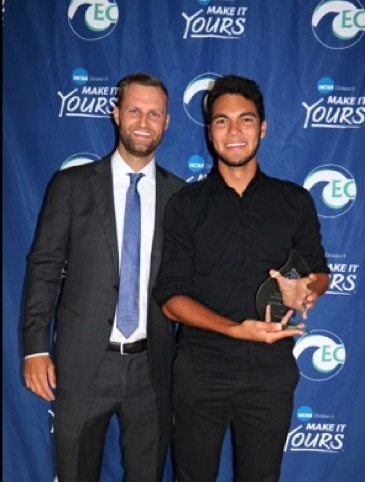 Eckerd Varsity Tennis Coach Ben Maxwell, left, with Alejandro Vucanovic
****
We owe a boundless thank you to everyone who honors Holt and Stone and supports us in the work of their Foundation.
Always,
Linton and Jan

** Each year the Eckerd College Men's Varsity Tennis Team gives out The Holt Weeks Sportsmanship Award. Holt's friend and former teammate Ben Maxwell is now coach of the team. This year's winner of Holt's sportsmanship award is Alejandro Vucanovic.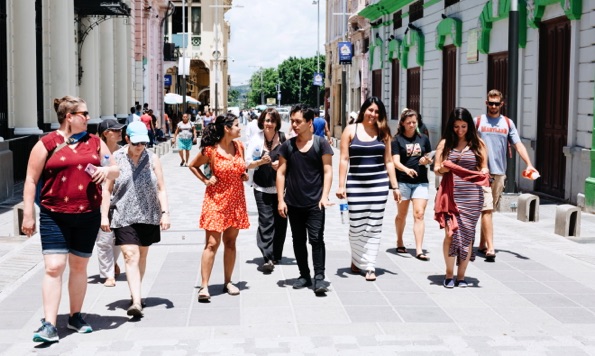 ** The Coffee Oasis, an initiative in Washington state which provides job training, a gathering place and life resources for young homeless and street-oriented people, ages 13 -25.
** Nourish Now, a nonprofit food bank in the DC metropolitan area that combats food waste -- and hunger -- by recovering surplus food -- from grocers, restaurants and other food donors -- and distributing food directly to those in need: children, families, shelters and elderly people.
** Kevin Rohan Memorial Eco-Foundation, an education community and beacon for Nepal's most impoverished communities, embodying eco-friendly practices and encouraging sustainable change through environmentally responsible programs.
** Determined2Heal -- a foundation, created by Stone's friend Josh Basile, offering advice and information and encouragement for people transitioning to a life with spinal cord injuries and paralysis.
****
The generosity of donors this past year enabled The Foundation to help a range of meaningful organizations -- in addition to those we annually support.
The Stone and Holt Weeks Field Study Scholarship created and funded by The Marchutz School of Fine Arts was granted to two students, Hannah Terrell from Linfield College and Delaney Conway from the University of Texas, Austin.
Environment America's Recruiting Award Recipient Emma Searson, right with
Environment America National Field Director Allison Cairo left, and Ryan Rafferty, center
** In late March, Environment America presented its 2019 Stone and Holt Weeks Recruiting Award in Philadelphia to Emma Searson, Clean Energy Associate. Our 2019 support for Environment America is made in honor of Emma. In the words of Environment America President Ed Johnson:
Emma Searson, has gone above and beyond to build our movement by recruiting new fellows — such as Clean Water Fellow Emma Dietz, who is advocating for schools in Massachusetts to replace their lead pipes so that kids can have clean drinking water.
A graduate of our Fellows Program herself, Emma Searson primarily works to advance solar energy in our nation's cities — including recruiting more than 200 mayors to support solar power. Emma's enthusiasm and energetic attitude inspires more young people to organize for change.
Stone and Holt Weeks share so much in common with the incredible young people I have the privilege of working with in our Fellows Program: their drive, intelligence, and passion for protecting the environment.
We appreciate this acknowledgement of Holt and of Stone by Environment America. We thank Ryan Rafferty, Stone's friend from his days at The University of Delaware, for representing The Foundation at the presentation. Past Environment America awardees are here.