Holt's close friend Nathan Barash speaking on behalf of The Foundation to
a gathering of high school students fundraising for The Leukemia & Lymphoma Society.
The beginning of the year has become a time to honor and remember Stone and Holt through the awards created by different organizations that the Foundation supports. These awards are presented to people who through their actions keep alive the generous spirits of Holt and of Stone.
When the Leukemia & Lymphoma Society handed out this year's
Holt Weeks Trailblazer Challenge Trophy Cup Award at the Microsoft Corporation in Washington, dear friend Nathan Barash represented The Stone and Holt Weeks Foundation. Dear friends Sarah Taylor, Sally Ellis and Rob Bouknight also attended on the Foundation's behalf. The trophy is given every spring to the high school that creates the most original fundraiser for LLS's Pennies for Patients in the Washington metropolitan area. This year's winner was Bethesda Chevy-Chase High School.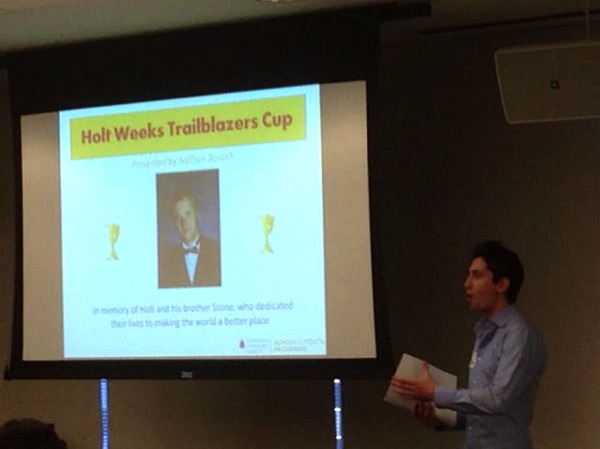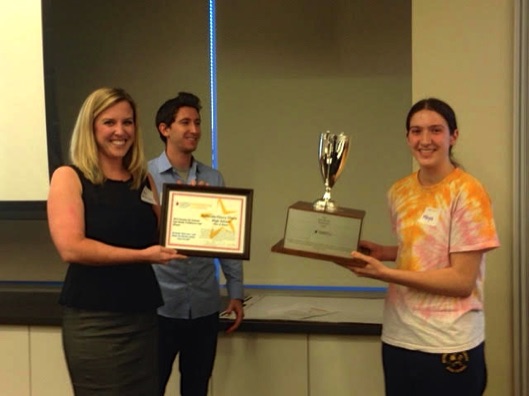 Ellen Shannon of The Leukemia & Lymphoma Society with Nathan Barash representing
The Foundation awarding The Holt Weeks Trailblazer Trophy Cup
to Bethesda-Chevy Chase High School student Maya Sterling.