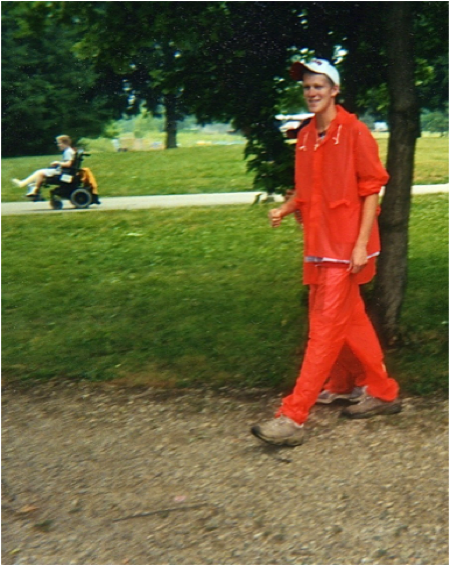 Seventeen-year-old Stone, right, when a counselor at MDA Camp Chicago
When Stone volunteered for the Chicago-area Muscular Dystrophy Camp in 2002, he was assigned to personally care for a physically challenged camper, Stone's same age, who needed to be Hoyer-lifted from his wheelchair in order to go to the bathroom or get in and out of bed. Stone came home from the experience exhausted -- and deeply moved.  He was deeply impressed by his camper's -- and all of the campers' -- courage and spirit. And by the dedication of the other volunteers. He decided to write his college essay about the experience.
In honor of Stone's commitment, The Stone and Holt Weeks Foundation supports two annual MDA camps by sponsoring campers and activities. A moving video is here. Each year the MDA camp in Chicago and the Washington-area MDA camp on the Chesapeake Bay present the Stone Weeks Rock Star Award that recognizes outstanding commitment among camp counselors. Some June 2015 camp photographs from Chicago are here and from Washington are here.