Newsletter Summer-Fall 2016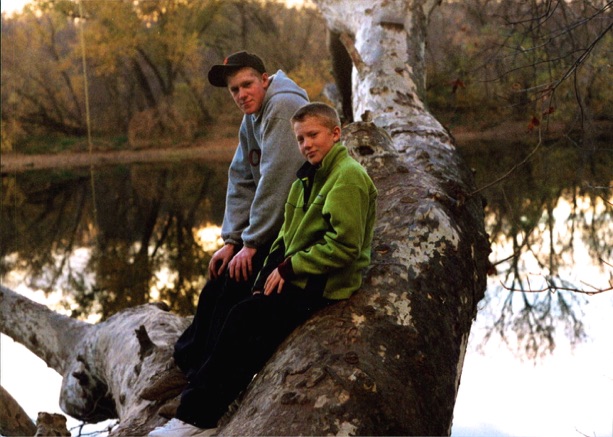 Stone and Holt on the Potomac River in the Fall, 2001
As The Stone and Holt Weeks Foundation website states, "Through unbearable sorrow and unending love, the Foundation has as its mission to try and carry on the dreams of Stone and Holt in their spirits...."
The Foundation has grown organically around support for organizations that were important to Stone and to Holt -- and a certain rhythm of giving on their behalf has evolved. These are all organizations that they were excited about, and they were eager to support for a very long time.
One way we go on living is through finding Holt's and Stone's ongoing and inspiring spirits by giving on their behalf from season to season. In many cases, the organizations recognize and encourage volunteerism in honor of Holt and of Stone.
In the summer, Muscular Dystrophy Association camps are held in the Chicago and Washington areas -- and in honor of Stone's MDA camp volunteer work, the Foundation sends special gifts and sponsorship help. Also in the summer, We Kare-eoke in Houston -- organized by dear friends of Stone and of Holt -- raises money for and awareness of The Beacon Day Center for the Homeless. Through Houston friends, Stone discovered the essential work that the Beacon does and he joyously introduced Holt to its mission. They had high hopes to set up a partnership between The Beacon and Rice University students.
In the fall, Stone's fraternity at the University of Delaware, Pi Kappa Phi, holds a We Kare-eoke night in Newark -- where Stone had such good times -- to benefit the fraternity's national charity, The Ability Experience. The Foundation sends event support and additional contributions.
In the spring, The Foundation makes generous donations to the following organizations through their respective creative endeavors on behalf of Holt and Stone. The Leukemia & Lymphoma Society stages the Holt Weeks Trailblazer Award Challenge, a competition among high schools in the Washington metropolitan region to see who can come up with the most original fundraising idea for LLS -- as Holt had done. Rebuilding Together of Washington DC awards a green-conscious volunteer in honor of Holt's work and Environment America awards an organizer in honor of Holt's and Stone's work. There are also school awards in memory of Holt and of Stone. 
In spring and fall there are nature field trips in honor of Holt and Stone
for DC public school children at Audubon Naturalist Society's Woodend Sanctuary, a place that Holt and Stone dearly loved.
In the winter, an annual We Kare-eoke event in Washington is held during the Christmas holidays. This year again, the event is being staged by many dear friends of Stone and of Holt.
And, when disasters occur that would motivate Holt and Stone to compassionate action, the Foundation makes strategic donations -- such as our recent grant to Partners in Health to aid their relief efforts in hurricane-ravaged Haiti. We identify with "Loss Beyond Measure".
* * * *
Other Recent Foundation involvement: