Red Cross volunteers in Poland receive unaccompanied minors arriving on a train from Ukraine

Knowing that Stone and Holt would be moved and motivated by the humanitarian crisis in Ukraine, within the first weeks of the invasion our Foundation made a generous donation to the International Federation of Red Cross Societies earmarked directly for Ukrainian refugee assistance. At this writing, we hope and expect to send more.
Thank you for your generous Foundation support over the past year which allowed us to react as we know Holt and Stone would want to.
** Upon learning of the unexpected death of Dr. Paul Farmer -- a founder of Partners in Health -- in early spring of 2022, we were moved to make a generous tribute donation to PIH. Dr. Farmer was working in Rwanda at the time. Holt's friends at Eckerd College in 2010 led us to know about the compassionate, expansive work of PIH. Since then The Foundation has supported the group's medical relief services in Haiti and its commitment to other communities around the world -- including Navajo Nation in the United States -- especially in the fight against the Covid pandemic. Paul Farmer was an extraordinary physician and justice-seeker. We will miss him and his vision. We link here to his obituary and to an appreciation. Finally a film about his life and influence on global health.
We are so often impressed, and amazed, by Stone and by Holt and the connections to the contemporary world they initiated in their all too brief times here.
Recently, dear friends of The Foundation mentioned to us the meaningful work of RedCloud Renewable, a sustainable energy project on the Pine Ridge Reservation in South Dakota, in one of the poorest counties in the U.S. Our family has some connections to the Native American community there. The Pine Ridge Reservation and the Black Hills of South Dakota figure in the work that Stone researched -- from 2007-2009 in his first job after graduating university -- for the book The Wilderness Warrior by Douglas Brinkley. Further back, in the late 1980s while our young family lived in Little Rock, we remember well toddler Stone learning to walk during our family visits to Dee and Sally Brown, the parents of one of our friends.  Dee was the author of Bury My Heart at Wounded Knee, the extraordinary historical --- and tragic -- story of events that led to the 1890 massacre by the U.S. military of nearly three hundred Lakota people at Pine Ridge. When The Foundation learned of RedCloud Renewable, we knew that Holt and Stone would be outspoken advocates for the nonprofit. And we were moved to send support.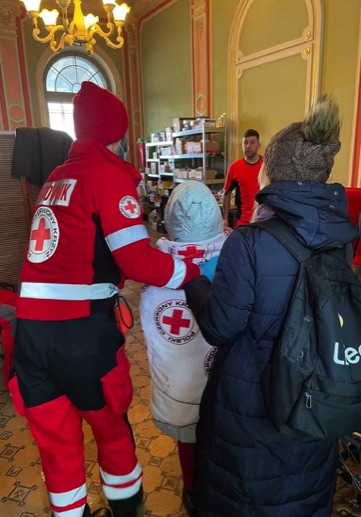 Part of RedCloud Renewable's sustainable energy project on South Dakota's Pine Rdge Reservation
In December, friends and families gathered virtually to participate in the Friends of The Stone and Holt Weeks Foundation 2021 Do Good Fun Run/Walk -- to raise funds for the Leukemia & Lymphoma Society. In honor of Holt's connection to LLS, and LLS honoring Holt with a school-based award, we chose to focus on the leadership work of LLS during the COVID-19 pandemic. They have provided free education and support services to blood cancer patients who are particularly at risk of COVID's worst effects.
We were able to send a very generous donation and we appreciate all of the participants and donors who contributed to the life-saving mission of LLS.
** Recently, Theta Nu chapter of Pi Kappa Phi -- Stone's fraternity at the University of Delaware -- bestowed the 2022 Stone and Holt Weeks Humanitarian Award on Myles Vandell, the chapter's warden. In honor of Myles and in loving memory of Stone and of Holt, The Foundation made a grant to the national fraternity's philantrophic organization, The Ability Experience. Founded in 1977, the Ability Experience strives "to instill a passion for lifelong service in our fraternity members while helping to empower people living with disabilities."
** Every year The Foundation makes a grant to the Walter Johnson High School Leadership Class "in memory and honor of Holt Weeks - Walter Johnson High School 2007 graduate and member of the 2005-2007 WJ Leadership classes - and his beloved brother Stone Weeks." This donation is to be used to help foster community engagement through student-run projects which most closely demonstrate the ideal: Do Good, Have Fun.
** Because Stone and Holt loved music so much, The Foundation continues its sponsorships of musicians in the Washington-area interPLAY Orchestra. The 2022 recipients are Maurice (Mo) Kerry, Charlie Mosley and Jeremy Wilson. The orchestra has continued weekly Zoom rehearsals since April, 2020 and has produced the first of three music videos they plan to make. It is moving to hear and to watch.
** We sent another grant to Nepal's Kevin Rohan Memorial Eco-Foundation, whose work we admire. We directed funds toward their ongoing response to the needs of their wider community -- eco-buildings, foods and medicines and all affected by the covid pandemic crisis -- as we described in our Fall Newsletter.
Maryland friends came upon the display of crystals honoring those lost to COVID-19
in Brookside Garden during the 2021 Run/Walk
Students with disabilities on a Stone and Holt Weeks Nature Field Trip
An Accessible Nature Trail recently added at Woodend Sanctuary
Because Woodend Nature Sanctuary -- headquarters of the Audubon Naturalist Society in Chevy Chase, Maryland, -- meant so much to Stone and Holt and our family, The Foundation wholeheartedly supports ANS and its mission to teach city people about the wonders of the natural world.
The Foundation provides annual support to Environment America. In April, Environment America's Lisa Frank organized their 2022 Stone and Holt Weeks Recruiting Award presentation and we were represented by our faithful Administrator Susan Park and Advisory Board members. Nathan Barash spoke about Holt's and Stone's commitments to the environment, and Caroline Lacey delivered remarks for us. Congratulations to Julia Dinmore, the winner of this award recognizing her magnetic leadership as an environmental warrior. And thank you to the compassionate Environment America staff for their continued support of this award, begun by former director Margie Alt.
Now their new accessible trails will make it possible for those with disabilities to visit the meadows, forest, stream and pond there -- and we have chosen to sponsor more nature field trips to serve these young people. Recent grants funded four spring field trips for Washington-area elementary students in autism programs and for students with physical disabilities. ANS Deputy Director for Programs Alison Pearce writes: "We are working to schedule a program in May to welcome a classroom of students with low vision. After we have completed these pilot programs, we will be meeting with the teachers, occupational therapists and physical therapists... to debrief the experiences, identifying needs for ANS staff training and any physical or operational changes at Woodend that might facilitate positive experiences for students with disabilities.... Your support means so much to us."
Environment America's 2022 Recruiting Award presentation
****
One last note. At the beginning of this newsletter we remarked on the connections to the contemporary world that Holt and Stone fostered in their short lives. We see examples every day. Here is a recent observation.
After Holt and Stone were killed in 2009, National Public Radio and The Washington Post lovingly created a journalism fellowship in their honor and their memories. Each year a young person was chosen to intern at The Washington Post and then at NPR. The five fellows who were selected were, without exception, exceptional.
Recently we heard a story on NPR's All Things Considered about the Russian assault on Ukraine. The reporter in Kyiv was Nathan Rott. The host who interviewed him was Miles Parks. It was an emotional moment for us. Nate and Miles were both Stone and Holt Weeks Fellows. And Stone and Holt would be so proud of their work.
Coming up later in May and June are the awards -- awarding leadership and the study of history -- created in honor of Holt and Stone at their respective high schools. And another hard anniversary approaches in July.
We continue to work to be brave. As always, thank you all for your ongoing support.
Always, for Stone and for Holt,
And love,
Linton and Jan
Stone, left, and Holt with Dr. Chris Garran, right, at their respective high school graduations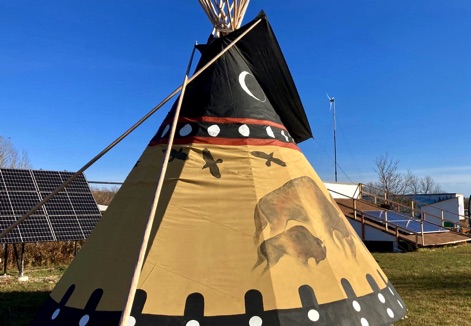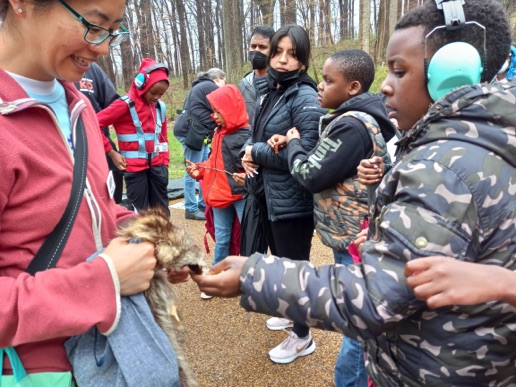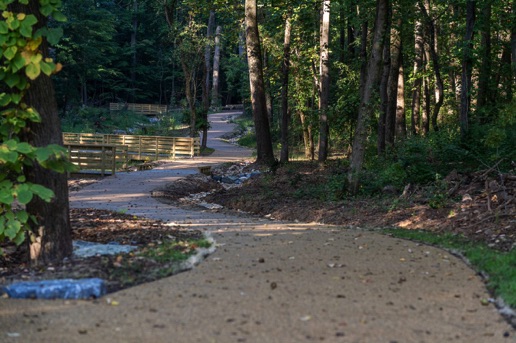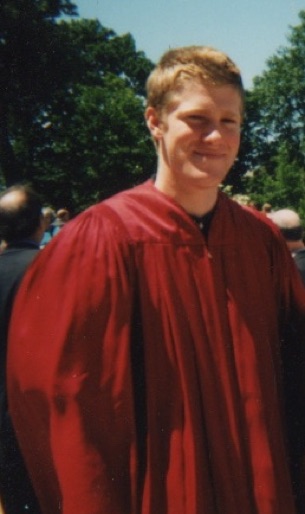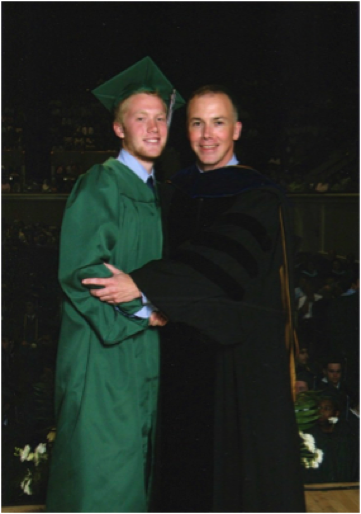 ****
The generosity of so many make possible our contributions to the wider world. We have said many times how much Stone and Holt loved their friends. And friends continue to love them back. Every year a group of Holt's dear high school friends stage a fantasy football league during the NFL season -- and missing and feeling Holt among them each year, they send a generous percentage of the year's winnings to The Stone and Holt Weeks Foundation. Thank you always to Aaron Suissa; Ben Posner; Nathan Barash; David Joffe; Thomas Feola; Romain Cartoux; Willie Phillips; Will Hagan; Jared Ross; Ian Johnson; Aaron Hvisda and Alex Siegel.
Alex Siegel also arranged for generous support from a fundraising partnership between his family's business, Washington DC's ACE Beverage, and Tito's Vodka.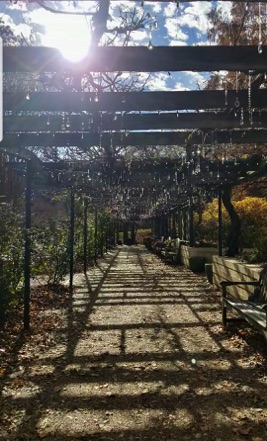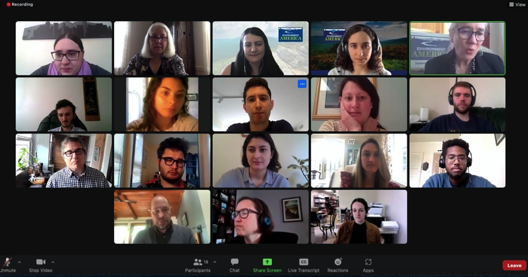 ** Also in late 2021, The Foundation issued another grant to Determined2Heal, a nonprofit started by Stone's friend Josh Basile after Josh's spinal injury. The mission of D2H is to help injured people, and their support team, make the difficult transition into life with paralysis and to support paralysis-related research and organizations.
** And The Foundation issued a grant to the American Red Cross to provide aid to victims of the devastating tornadoes in Kentucky and other states in December, 2021.
** We issued another grant to the Center for Auto Safety in loving honor and memory of Holt and Stone -- and in honor and memory of CAS Executive Director Clarence Ditlow, who guided us through legal horrors with great compassion in the aftermath of the 2009 trucking crash. Clarence was a protege of Ralph Nader and a relentless advocate for safer roads and vehicles in America. We miss his kind wisdom and gentle counsel.
** We also sent support to the Muscular Dystrophy Association summer camps -- in Washington, and in Chicago where Stone volunteered. MDA is expecting that as pandemic guidelines shift, they will be able to return to in-person activities in some parts of the country. They also plan to continue to offer a virtual camp experience to all those who are unable to travel.
** In late 2021, The Foundation made a grant to Children's National Hospital in Washington, DC, for their Covid-19 Emergency Action Fund. The Fund supports frontline healthcare workers who are vaccinating and treating pediatric patients. The grant was made "in loving memory and honor of Stone and Holt, who were each, once tenderly cared for at Children's Hospital. They were both so eager to do so much more good in this world. With hope this will help other children and families."