After Holt's tennis match for Eckerd Men's Varsity Tennis Team, March 2009
with l-to-r Linton, Stone, Holt's dear friend and freshman roommate Ross Dingwall, and Holt
Coming Up:
** The Stone Taylor Weeks Award for Excellence in the Study of History will be presented at St Andrew's Episcopal School in Potomac, MD in June. Created by St. Andrew's, which does not have monetary prizes, the award comes with two copies of Douglas Brinkley's books on history -- The Wilderness Warrior: Theodore Roosevelt and the Crusade for America, which Stone researched and which includes a beautiful acknowledgment of Stone and his work, and its sequel The Quiet World: Saving Alaska's Wilderness Kingdom, which is dedicated to Stone.
In July it will be nine long, devastating years since Stone and Holt were killed. We mourn them day and night. Somehow we continue to hang in for our amazing sons, hoping to honor and carry on their caring and compassionate ways. We are very grateful to all of the Friends of The Foundation who continue to support in ways that are very kind and loving and meaningful. 
Each year now a group of Holt's close high school friends make a donation of a generous percentage of their Fantasy Football League winnings. They have expressed how much they miss Holt being an active participant and that this is a small way of keeping him involved.
We know how much Stone and Holt would be excited about and supportive of all of their friends and of their friends' good and meaningful work. On behalf of Holt and Stone, and in honor of their friends' involvement in other-oriented organizations, we have directed The Foundation to send generous support to:
* Nourish Now, a nonprofit food bank that combats hunger by recovering surplus food -- from grocers, restaurants and other food donors -- and strategically distributing it to children, families, and the elderly.
* Laberinto Projects, for its important and much-needed educational outreach program Educa for teachers and students in the Washington DC area and its development of an environmentally-conscious initiative, Plasti.co.
* Determined2Heal, which works to help others transitioning to a life with paralysis.
We also have made a generous financial donation to Inova Blood Foundation. Inova stages important regional blood drives, like Holt led in high school and The Foundation has sponsored in recent years.
More updates on Foundation activity:
** In November, another We Kare-eoke *Delaware* 2017 was held near the campus of The University of Delaware where Stone graduated in 2007. The event is organized by Stone's dear fraternity brothers at Pi Kappa Phi, Theta Nu chapter. Money from the evening -- along with a generous grant from The Foundation -- goes to support The Ability Experience, Pi Kappa Phi's nonprofit that helps people with disabilities. Chapter leader Jack Coughlin writes, "We cannot explain to you how much we, as Theta Nu, appreciate your involvement and generosity. The Foundation has such a difference...."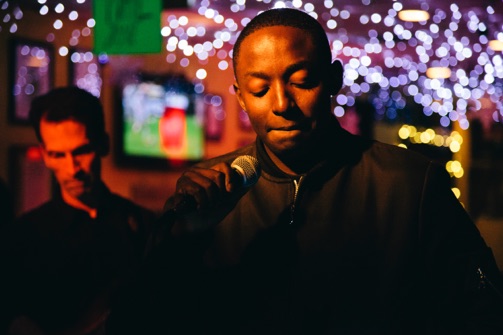 We Kare-eoke *Washington 2017
** In December, We Kare-eoke *Washington* 2017 -- an annual fundraising event organized by dear friends of Holt's and of Stone's -- raised money and awareness of The Foundation. Thank you especially to Sarah Taylor Bower, Rob Bouknight, Nathan Barash, Caroline Lacey, Susan Park and -- so many other friends who helped make the night meaningful. Photographs of the gathering are here.
** This spring Pi Kappa Phi fraternity at The University of Delaware guided by Stone's dear friend Bobby Bartocci -- presented their annual Stone and Holt Weeks Humanitarian Award to Andrew Crist, a Dean's List student from Glen Mills, Pennsylvania. The award comes with a generous donation to Pi Kappa Phi's national charity, The Ability Experience in memory of Stone and Holt, and in honor of Andrew. In nominating Andrew, a fellow student writes: "I think the most impactful memory I have of Andrew is when we went canning together on Main Street. It can be awkward asking random people for money on the side of the road, but Andrew made it fun. We played music and Andrew's outgoing nature drew people in. He explained where their money would be going and the profound impact it would make. It was a great afternoon."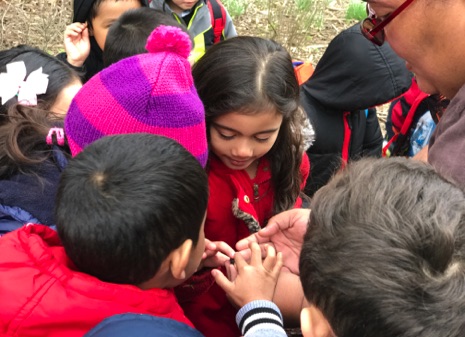 ** The Foundation sponsored three field trips for urban students -- through the Montgomery Housing Partnership -- at the Audubon Naturalist Society's Woodend Nature Center in April. These scholarships now include teacher classroom visits to prepare the children for their field trips. Diane Lill of ANS writes of the students: "I hope you can see in these photos just how fearless and engaged they were exploring Woodend! Thank you SO much for making this possible." More photographs are here.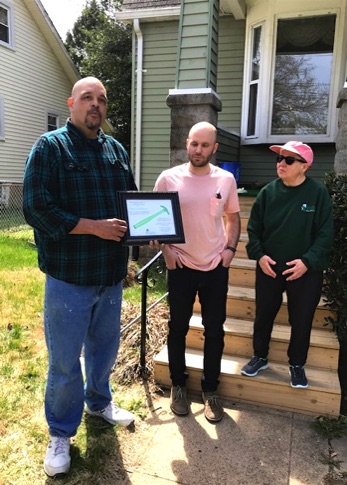 2018 Humanitarian Award Recipient: Andrew Crist, on far right second step
with a Donation to The Ability Experience in his honor
Young students learning through The Foundation's Nature Field Trip Scholarship Program
at Audubon Naturalist Society's Woodend Sanctuary
** On April 21, sweet Holt's 29th birthday, Rebuilding Together of Washington DC -- which helps provide affordable housing to low-income residents -- presented its yearly Green Hammer Award, created in memory and honor of Holt and Stone. The recipient was Greg Gwaltney, Senior Environmental Scientist for the U.S. Environmental Protection Agency. Holt's dear friend Alex Siegel handed the award to Greg, "in recognition of his dedication to environmentally sound building practices and his steadfast stewardship to Planet Earth." The award comes with a generous donation by The Foundation to Rebuilding in honor of Greg. Photographs of past recipients are here.
Green Hammer Award recipient Greg Gwaltney, left, with Alex Siegel, center,
and Janice Stango of Rebuilding Together of Washington DC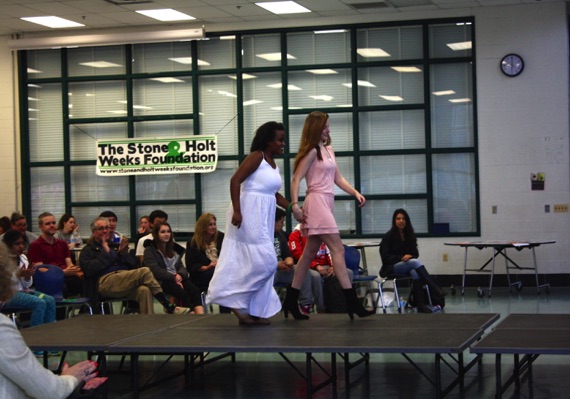 The Do Good Charity Fashion Show at Walter Johnson High School
benefitting Muscular Dystrophy Association summer camps
** Dear Foundation friends Caroline Lacey and Susan Park represented us on April 24, at the annual Walter Johnson High School Do Good Charity Fashion Show. This is the eighth year that the event -- put together by thoughtful and caring students -- has supported our Foundation and we used it to draw attention to and raise more funds for Muscular Dystrophy Association summer camps in Washington and in Chicago where Stone volunteered while in high school. Through ticket sales and silent auction sales, proceeds from the night -- plus additional Foundation grants -- provide financial help to campers who otherwise would miss this "best time of the year" for kids with neuromuscular diseases. This year, the show organizers included the Best Buddies club, which partners students with disabilities with other students. Fashion Show photographs are here.
** Patriot High School in Virginia, won the Leukemia & Lymphoma Society's 2018 Holt Weeks Trailblazer Challenge Award -- given each spring to a Washington area high school that exhibits great creativity and vitality in its LLS fundraising efforts. Patriot's winning theme this year was Donate for Denim. The award comes with a generous contribution to LLS on behalf of the winning school. Past recipients are here.
** On Monday evening, May 21, Holt's dear friend Nathan Barash presented the Holt Weeks Leadership Award at Walter Johnson High School to a deserving senior. This award includes a stipend to the recipient to be used toward their college goals. The winner was Julia Federman.  WJ Leadership Class sponsor Mollie Carlin writes:  "Julia—or JFed as she is affectionately known—is a wonderful student who always comes to class with a smile on her face. She is a team player and a great problem solver.  Rather than focusing on everything that might have gone wrong or might be difficult, she instead looks to how best to overcome the obstacle.  In Leadership, she exemplifies all the qualities that we look for in our students." Thank you to Caroline Lacey for this photograph. Past winners are here.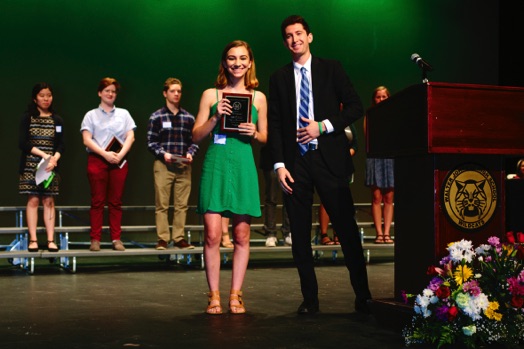 Walter Johnson High School's William Holt Weeks Leadership Award winner
Julia Federman, left, with presenter Nathan Barash
** The aforementioned MDA camps in Washington and Chicago will also be in June. The Foundation sponsors several campers and sends special gifts to enhance the summer experience.
** And We Kare-eoke *Houston* will be held on August 25 at the Grand Prize Bar to benefit The Beacon. Dear friends of Stone's and of Holt's in Houston continue to organize and host this meaningful event on behalf of us all.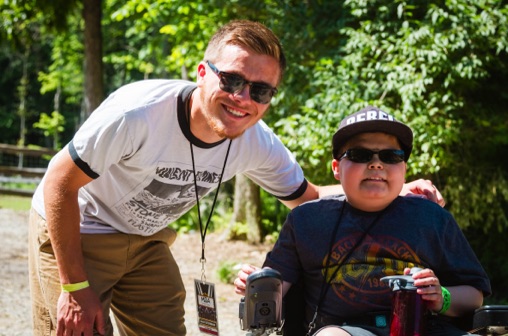 Muscular Dystrophy Camp Chicago 2017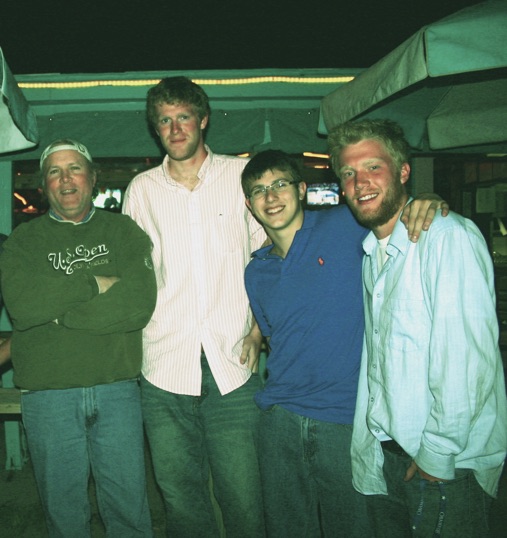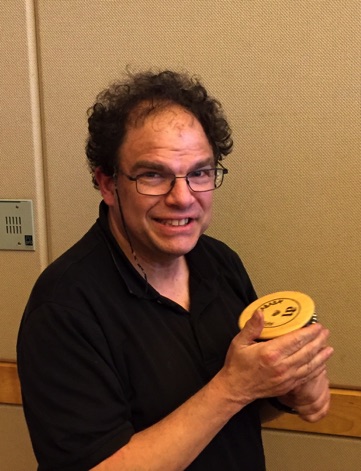 Maurice (Mo) Kerry, recipient of The Foundation's scholarship to interPLAY Orchestra
** In January, The Foundation renewed our annual interPLAY Orchestra scholarship, sponsoring Maurice "Mo" Kerry for 2018.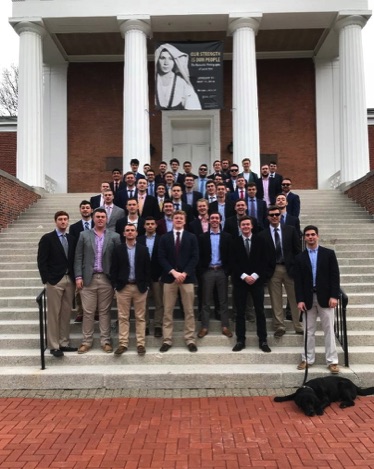 ** The Marchutz School in France, where Jan painted and taught, makes an annual Travel Scholarship in honor of Stone and Holt.
Loving Tributes from Friends:
In addition to The Foundation's work, others who knew and loved Holt and Stone continue to honor them:
Thank you to everyone for your caring and support.
Always,
Linton and Jan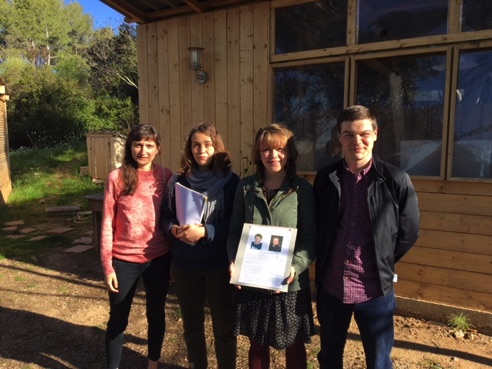 2018 Travel Scholarship Recipients l-to-r Mary Leon, Sophie Browning, Hillary Stein, Patrick Beeby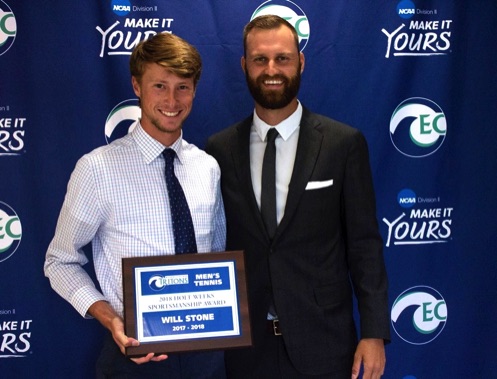 2018 Holt Weeks Sportsmanship Award Recipient Will Stone, left, with Coach Ben Maxwell
** Each year the Eckerd College Men's Varsity Tennis Team gives out The Holt Weeks Sportsmanship Award. Holt's dear friend and former teammate Ben Maxwell is now coach of the team.