Stone and Holt at Woodend Sanctuary on Thanksgiving Day, 1992

Sophia Papademetriou, 2022 recipient of St Andrew's Excellence in History Award named for Stone
Leukemia & Lymphoma Society's Zoom Presentation of their Trailblazer Trophy Award
Lindsay Carpenter and Max Sorenson received the 2022 Stone Weeks Rock Star Volunteer Awards from the Muscular Dystrophy Association for their hard work during MDA's 2022 Summer Camp programs.  
While in high school, Stone was very moved by his experience as an MDA camp counselor, and he would be moved by this award in his name and our continued support of young people with neuro-muscular disease.
"On behalf of MDA, thank you for encouraging us to raise up our volunteers," writes Carrie Dalton of MDA. "It's an excellent reminder of the impact of this program and the incredible humans that support it."
Awardee Lindsay Carpenter "is a physical therapy student and a first year volunteer who attended our camp near Dallas, Texas," Carrie says. "Regardless of not having any prior experience in camp and not much exposure to children's activities,  she quickly became a favorite to many campers whether she was in their cabin or not. ..  she was the embodiment of what we look for in a volunteer."
Of Max who attended three different states' camps, Carrie says, "He has been involved with the camp program since 2004. Outside of camp, he is a teacher, evident in his willingness to jump into whatever task is at hand, be it helping a camper in the pool, cleaning up a mess in the dining hall or serving as DJ for the camp dance. ....He is the epitome of what we look for in a volunteer and a true asset to the program...."
Max Sorenson writes: "This is such an honor, you have no idea how much it means to me.... (I'm crying writing this). ....MDA Summer Camp holds such a special place in my heart, I can't wait to go back. And to any of the campers who read this -- keep being amazing."
2022 MDA Summer Campers and Counselors
We know that so much of what The Foundation has been able to do, is with the help of your continuing love and support.
And so we negotiate our trail, a path holding to the extraordinary lights of Holt and of Stone.
Thank you.
Always, for Stone and for Holt,
And love,
Linton and Jan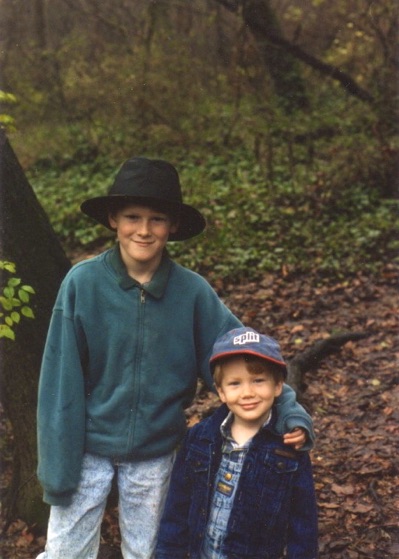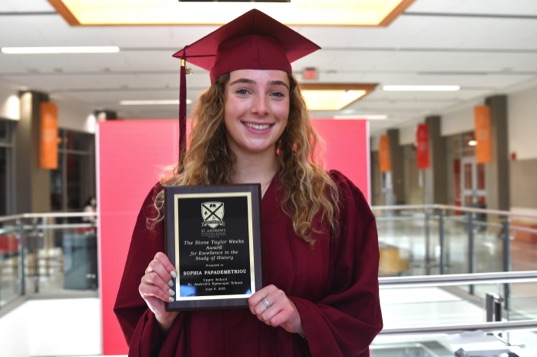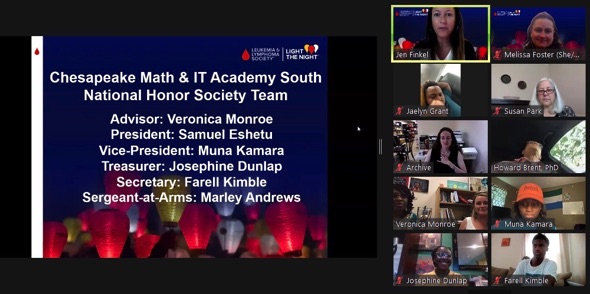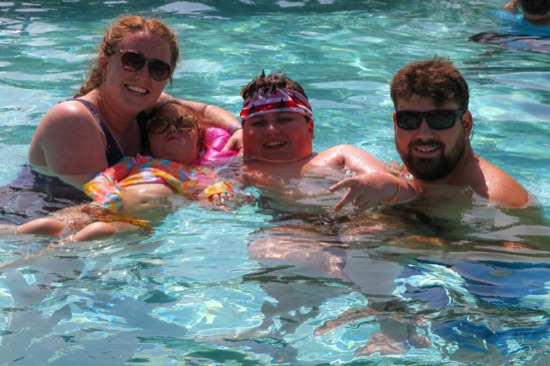 One of The Foundation's most meaningful partnerships has been with the Audubon Naturalist Society, which is now known as Nature Forward, in the Washington DC Capital Region. This moving new video introduces their new name and illustrates their fully inclusive mission.
One of Nature Forward's primary goals is to enable everyone to discover the wonders of the natural world. To assist, The Foundation has for years sponsored nature field trips and in-class environmental education for underserved young students.
More recently, Alison Pierce of Nature Forward writes us, "We have relaunched our collaboration with the Montgomery Housing Partnership. Our talented naturalist, Peihan Orestes, visited each of their 'Play and Learn' centers this summer with a lesson about birds. She is visiting each of the five centers again (serving about 80 children total) this fall with a lesson about worms and each of the groups will also visit Woodend for a field trip." And: "We are just beginning to plan for a special week-long summer camp program for children who are deaf or hard of hearing. One of our very experienced preschool teachers has a daughter who is deaf and therefore is fluent in American Sign Language. She will teach the camp and we are working with special educators from Montgomery County Public Schools to identify students to participate, free of charge."
She adds: "We remain deeply grateful for the support of The Stone and Holt Weeks Foundation that allows us to connect children with nature, especially those from low-income families and those with disabilities. Every child deserves to enjoy the outdoors and learn about their natural environment. You help to make that possible!"
****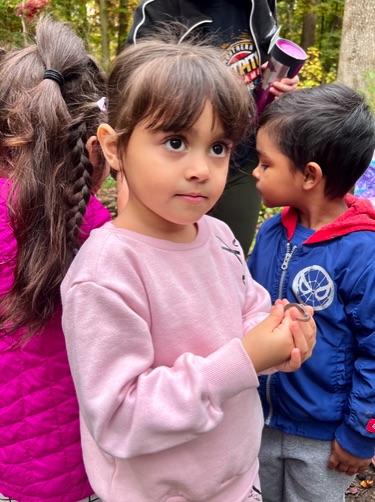 On May 24, Walter Johnson High School in Bethesda, Maryland, bestowed the 2022 William Holt Weeks Leadership Award on senior Madeline Chung.
According to the AP History and Leadership Class teacher Mel Schwed, "Maddie is an all-star in the classroom and on her various sports teams.  She is a natural leader who does not demand attention, but earns it through her hard work and determination to do the right thing always... Her work in the Leadership class is always outstanding, she is dependable and someone every student in the class feels comfortable working with.  Maddie is always smiling and encouraging her classmates...."
Thank you to Holt's friend Nathan Barash who presented the award on our behalf. Maddie began attending The University of North Carolina at Chapel Hill this fall. Past recipients are here.
Madeline Chung, 2022 recipient of Walter Johnson's Leadership Award named for Holt
Presented by Holt's friend Nathan Barash
Also in June,  the Leukemia & Lymphoma Society awarded their Holt Weeks Trailblazers Challenge Award. The trophy is given annually to the high school in the Greater Washington DC area that exhibits the most creativity in fundraising for LLS -- and comes with an additional donation from The Foundation to LLS. This year it went to Chesapeake Math & IT Academy South High School of Marlboro, Maryland.
Jen Finkel of LLS reports that it is "meaningful to honor Holt and Stone and keep their legacies alive.... Chesapeake Math & IT is a strong and dedicated group of students led by an enthusiastic Advisor, Veronica Monroe."
While he was in high school, Holt was very gratified to help create a major school fundraiser for LLS. He would be proud of this award in his name, and our continued support for LLS's blood cancer research. Thank you to Holt's friends Caroline Lacey and Susan Park for representing The Foundation on the Zoom presentation.
The Foundation provides generous annual support to the Muscular Dystrophy Association and its Summer Camp, which according to the MDA 2022 Camp Report, "is not just a place, it's a feeling. In 2022, we were thrilled to build back our in-person camp program and continue to provide virtual programming as well. We know many campers and volunteers are ecstatic to be back together in-person at camp while other members of the MDA community enjoyed virtual camp. .... we can meet families where they are and provide that MDA Summer Camp feeling." In all, 90 days of camp were held across the nation.
Parents wrote, "This amazing camp has increased my camper's independence, compassion for others, and is a geat social outlet." And, "Camp has made my child realize she is not alone and there are kids just like her."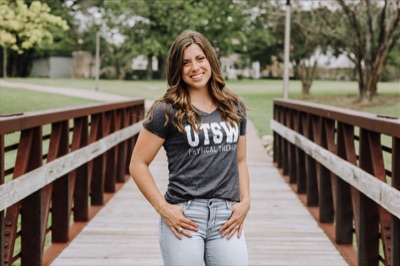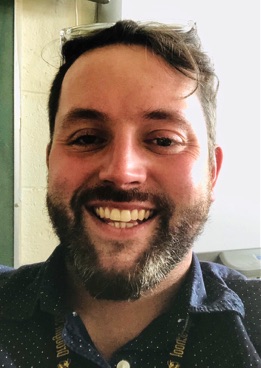 **  
Earlier in the Fall, The Foundation sent another generous grant to the large day center for homeless people in Houston, The Beacon. We thank all of our Houston friends for helping us further our meaningful relationship to an organization that Stone and Holt cared about so much. A special thank you to Stone's awesome neighbor and friend Jennifer Condi.
A recent Nature Forward newsletter (still Audubon Naturalist Society at the time) featured the Stone and Holt Weeks Foundation Field Trips: "....this launch of pilot field trips for students with disabilities is a major milestone of continuing to restore Woodend Nature Sanctuary and welcome all people to it....." 
Holt and Stone would want their love of nature to continue to spread.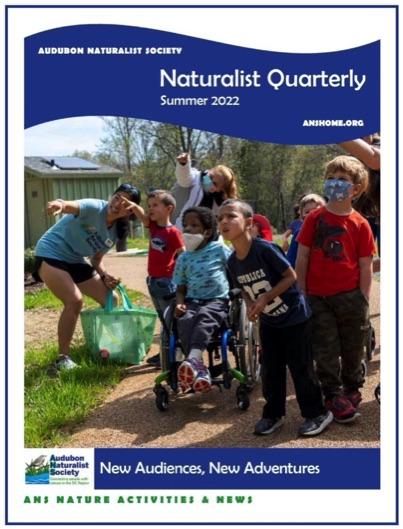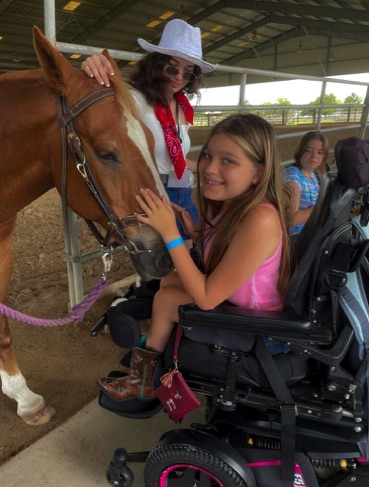 **
In October, the Friends of The Stone and Holt Weeks Foundation staged the 2022 Do Good Have Fun Run/Walk/Roll. The virtual event allowed friends and supporters, from the West Coast to the East Coast to Europe to participate. More photographs are here. Together we held Holt and Stone with us virtually to support the International Red Cross relief efforts for Ukrainians affected by their ongoing war.
Thank you to everyone who donated and a special thank you to Susan Park and all of the Advisory Board members -- Sarah Taylor Bower, Allie Seale, Caroline Lacey, Nathan Barash and Rob Bouknight for their art of caring and organization.
**
In November, after a multi-year Covid-related pause, Stone's fraternity at the University of Delaware, Pi Kappa Phi, restarted the We Kare-eoke tradition to raise funds for their national charity for disabled persons, The Ability Experience. The Foundation added a generous grant to the night's proceeds. Thank you to Theta Nu Chapter organizer Ty Kang and all who participated.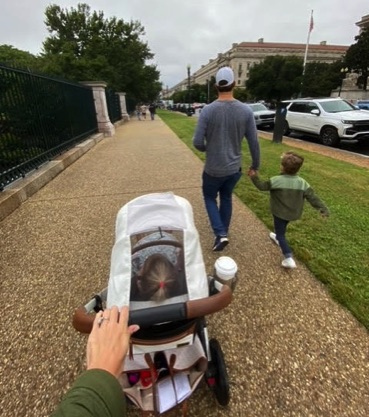 A Young Family on a rainy day Run/Walk/Roll 2022 in DC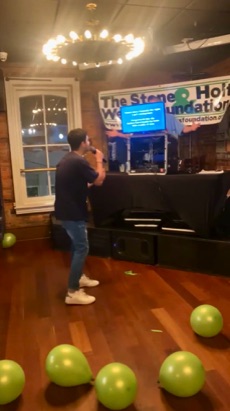 2022 We Kare-eoke *Delaware* for The Ability Experience
**  
The Foundation steadfastly supports Environment America, in their recruitment of advocates and organizers. "Our associates this year have been doing great work to protect the environment this year- Ben Grundy is working in California to save the bees and stop plastic pollution, Mackenzie Brown has been advocating for transit and clean electric school buses with our national global warming team and more," writes Lisa Frank of Environment Amercia. "Thank you for your ongoing support! It is especially helpful as we confront a challenging labor market and emerge from the pandemic."
Reflecting the eclectic passions -- and compassion -- of Holt and of Stone, The Foundation continues to support additional meaningful organizations. Recently, we were able to issue more grants to: 
** Coffee Oasis in Tacoma, Washington, which provides shelter, counseling and work opportunities for at-risk young people.
** The Water Ministry of St. Columba's Church in Washington DC, which serves the homeless people of the city. While Stone and Holt were growing up at St. Columba's, they served Thanksgiving dinners to Water Ministry clients.
**
The Naturalist Quarterly featuring the Stone and Holt Weeks Nature Field Trips
A Young Student Discovering a Bit of Nature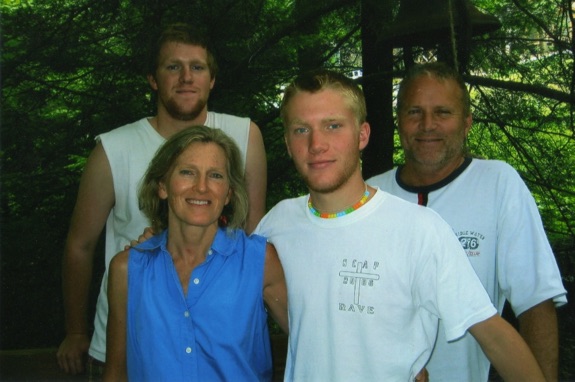 Together in the Maryland Woods, 2006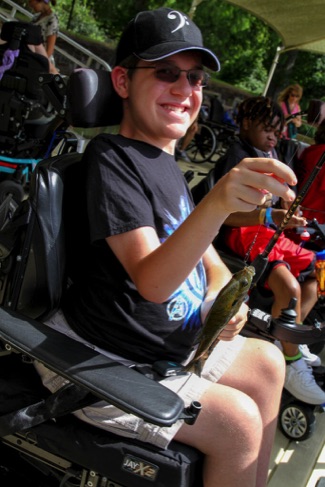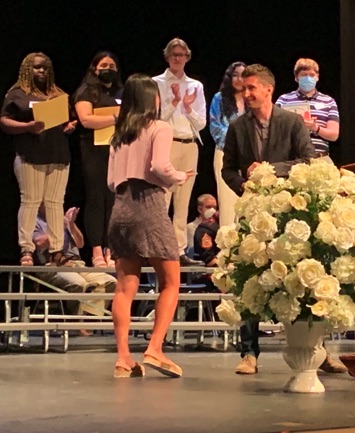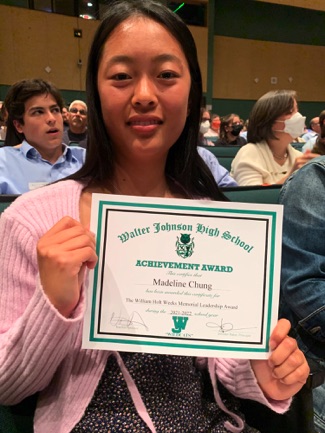 Another very special thank you to Rob, who also participated in a 240-mile personal race in honor of Stone and Holt -- to further fundraise and help The Foundation support Ukraine war victims.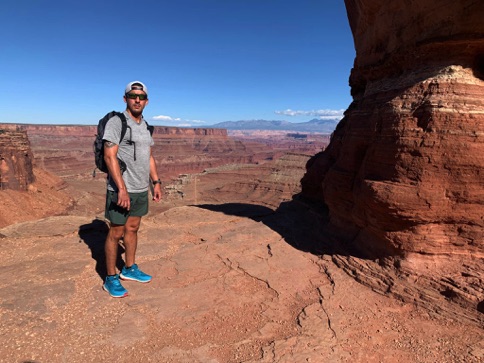 Rob Bouknight at The Moab 240 Mile Endurance Run