The C & O Canal outside of Washington DC during We Kare-eoke Fun Run/Walk on October 31

Our family loved to walk together along the C & O Canal -- young Holt and young Stone would often run ahead with our beloved dog Pierre. Sometimes their friends would be along. It was moving to receive an exquisite photograph of the canal taken by one of their friends. This is where she walked -- in memory of Stone and of Holt -- during the 2020 Do Good Have Fun 5K Run/Walk.
The virtual online event, on Halloween Day, brought together friends of The Foundation from Japan and Arkansas and Italy and Delaware and Minnesota and California and North Carolina and New Mexico and, of course, Maryland and Washington DC, among many other places. All money raised went to the Capital Area Food Bank in NE Washington D.C.
Participants in the 2020 Fun Run/Walk, virtually together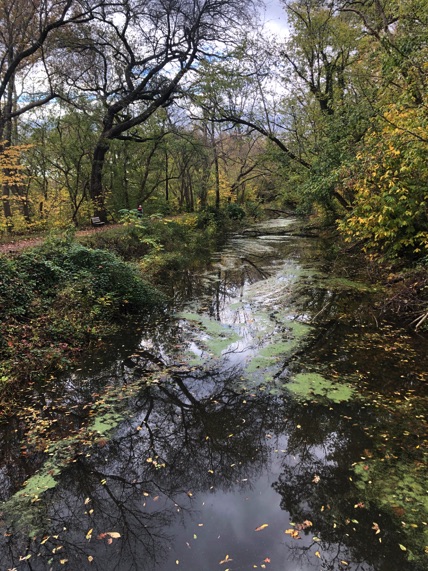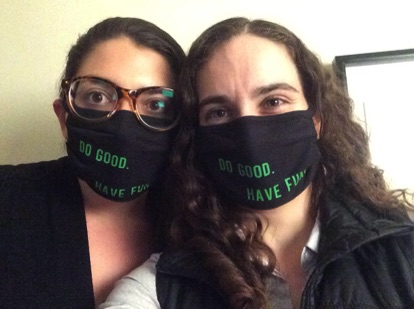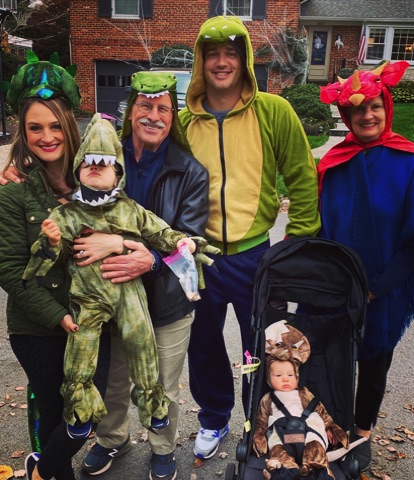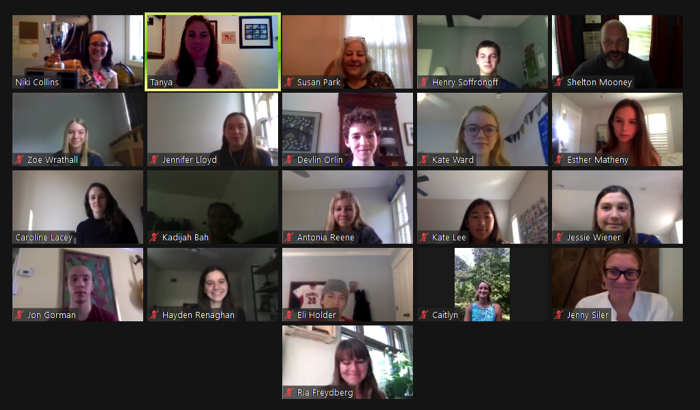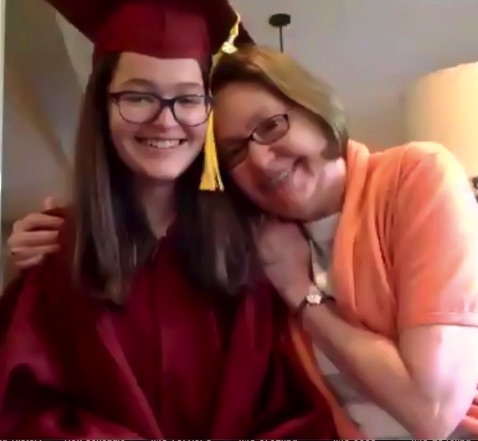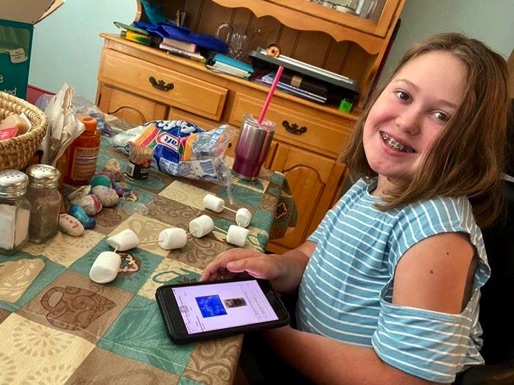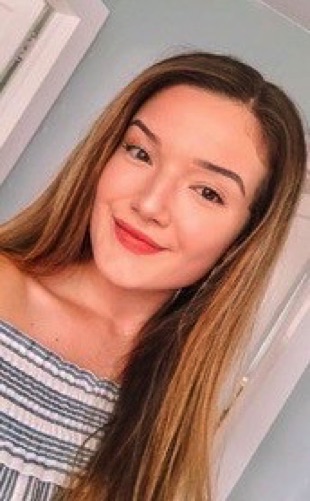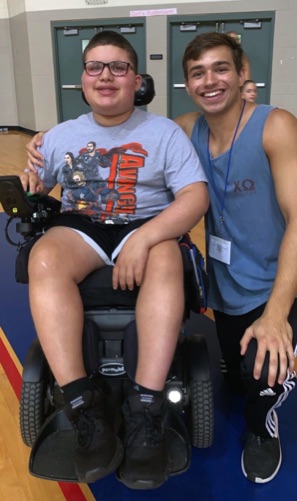 A generous total was sent in hopes of helping to feed families suffering widespread food insecurity during these challenging times. We want to extend a special thank you to lead organizer Allie Seale, and to Kathleen Seale, Caroline Lacey, Susan Park, and many other Friends of the Foundation who helped ease the event successfully into the virtual world. There were many participants and thoughtful messages and generous donations. We appreciate them all. Additional photographs are here.
** More Foundation News:
In early June, St. Andrew's Episcopal School selected Caroline Milne to receive the 2020 Stone Taylor Weeks Award for Excellence in the Study of History. Caroline is attending Bates College this fall.
Stone's History Award presented virtually to Caroline Milne
LLS's Holt Weeks Trailblazer Challenge Award was presented to Bethesda-Chevy Chase High School
Also before the school year ended in June, The Leukemia & Lymphoma Society announced the winner of their 2020 Holt Weeks Trailblazer Award -- given to the Washington area high school that stages a new and creative fund-raising campaign. The award was presented in a virtual ceremony to Bethesda Chevy-Chase High School in Bethesda, Maryland.
Niki Collins, LLS's Campaign Development Manager for the Mid-Atlantic region, writes that the Trailblazer Competition in 2021 "may look a bit different since the schools cannot set up large-scale, in-person community events." She adds that they look forward to the students' creativity needed "to match the new learning models of our districts come Spring." The Foundation supports LLS through their school fundraising program in which Holt played a large role.
A young camper visits with old and new friends during MDA's virtual camp this summer
As spring moved into summer, we learned from the Muscular Dystrophy Association's Development Manager Carrie Dalton, "In light of the COVID-19 pandemic, MDA made the difficult decision to transition our 2020 in-person summer camps to virtual programs. Children living with neuromuscular disease are at higher risk for COVID-19 and its severest complications...." 
The Foundation makes annual grants to the MDA summer camps in the Washington, DC area and in Chicago, where Stone volunteered. This year the MDA created virtual activities that allowed campers to have new and fun experiences and to connect with the natural world and with each other.
Parents provided beautiful testimonials:  "From a parent's perspective this has been amazing even to give a boost to her spirits and her mental health after all of the very necessary, but discouraging, isolation over the past few months." Another parent says her daughter "was so excited to talk to me about another child she met with CMT Type 1A who has a mom with CMT too -- same as us! -- and wears braces too! Also found a friend who loves the same book series...and did some fun crafts and made a camp snack today . She said she can't believe the connections she has made all over the country today!"
MDA's Stone Weeks Rock Star Volunteer Awardees Meghan Balenger, left,
and Davis Cury with a previous year camper, right
Annual Stone Weeks Rockstar Volunteer Awards were awarded to two MDA camp couselor volunteers: Meghan Belanger and Davis Cury. Davis Cury writes: "I adore the message of the Stone and Holt Weeks Foundation. 'Do Good, Have Fun' is an idea that I hold so near and dear, so it makes me feel so great that you all have designated me with this award! Stone and Holt had it figured out...."
And Meghan Balenger responds: "These kids look forward to this every year.... I had the opportunity to play games, tell stories, talk, and make friendships with such amazing kids. The campers appreciated this small sense of normalcy...."
The Foundation continued to provide generous annual support to The Beacon Homeless Services where Stone and Holt volunteered during their time in Houston. The yearly We Kare-eoke *Houston* -- which raises money for The Beacon was postponed in August. The evening of music and meaning has been faithfully organized by our sons' dear friends in Texas.
The Beacon annually recognizes a volunteer with the Stone and Holt Weeks Volunteer Award. This year the recipient was Saloumeh (Sally) Ebrahimzadeh. According to Julie Falcon of The Beacon, "Sally's commitment to The Beacon's mission and enthusiasm for spreading the word to others about our work truly embodies the dedication that Stone and Holt had for the organization.  We are so pleased to honor Sally with the Stone and Holt Weeks Volunteer Award at The Beacon as she carries on their legacy of serving and sharing with others."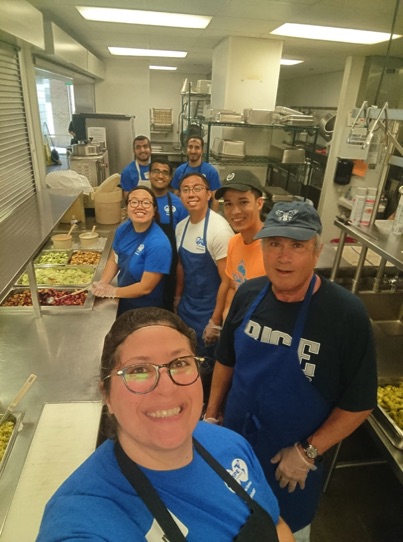 The Beacon of Houston's 2020 Stone and Holt Weeks Volunteer Award recipient
Sally Ebrahimzadeh with other Beacon volunteers
The Foundation continues to provide grants to the Audubon Naturalist Society in suburban Washington. Executive Director Lisa Alexander writes:
While the global pandemic prevents Audubon Naturalist Society from bringing school groups to Woodend for our signature Stone and Holt Weeks Walk in the Woods Field Trips, ANS has pivoted to serve youth with nature education in new ways. At Woodend, ANS is running all outdoor programming for small groups of children with robust social distancing and health screening protocols. ....One of ANS's Spanish-speaking environmental educators is working with local school counselors and families to deliver scholarships and overcome barriers to ensure that all children have a chance to participate in these outdoor programs.
At the same time, ANS GreenKids Director, Diane Lill, is working with four local public school systems (District of Columbia, Montgomery County and Prince George's County, MD and Loudoun County, VA) to deliver virtual environmental education lessons on reducing food waste, green careers and water quality in streams to help our region's stressed teachers keep up with science and environmental education in an online world.
This summer we learned of the work of Stone's friend Tommy Luginbill, whose technology incubator helped create the non-profit SoMD Loves You to respond to the Covid-19 pandemic. They developed a 'Hot Box' which sanitizes and enables the recycling of personal protective equipment (PPE) for front-line healthcare workers. We wanted to help them support hospitals in the ongoing need for sufficient PPE. Tommy recently writes us, "As under the guidance of the FDA, dry heat systems like the Hot Box can now be used to sanitize and reuse N95 respirators." Holt and Stone would be so supportive.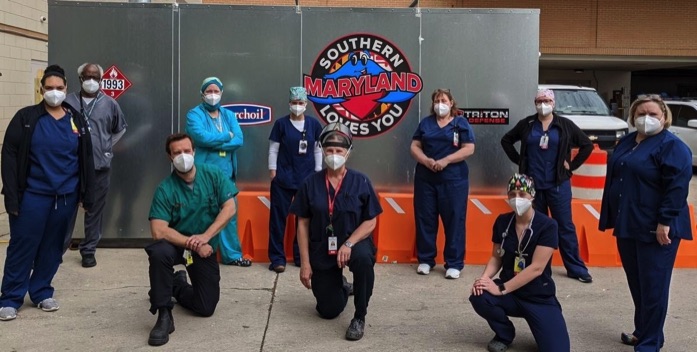 ** And The Foundation has lent more recent support to:
** Victims of Northwest wildfires, particularly in Oregon -- helping through American Red Cross. The link tells more.
** Navajo Nation battling their more recent surge in Covid 19 cases -- via Partners In Health. A moving video is found in the link.
** Hurricane ravaged communities in Louisiana and Central America -- also through American Red Cross. This link tells more.
Through the end of the year, we will continue our support for the research fellows at Environment America, the musicians of interPLAY orchestra, and the spinal cord injury community through Determined2Heal.
The Foundation appreciates your support -- on Giving Tuesday (December 1) or any time -- and your love.
As we continue to work to honor the generous and loving spirits of our amazing Stone and Holt. We miss them more than we can say.
Thank you, always.
Jan and Linton
SoMD Loves You's Large Heat Decontamination Unit for Hospitals, Recycling 24,000 Masks per Day