The Beacon Volunteer Award: Presented to JJ Stevak, left, by Julie Falcon of The Beacon
****
Thank you to everyone for your sensitive and compassionate caring and support.
Always,
Linton and Jan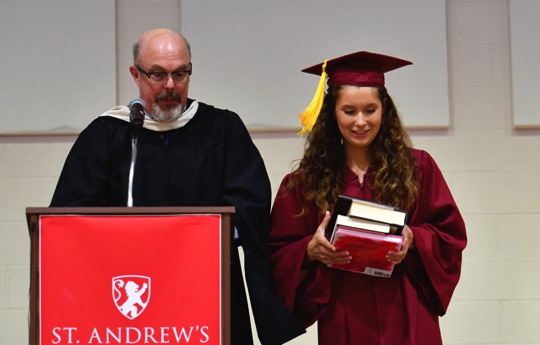 Amelia Leahy, right, 2018 Recipient of Stone's History Award at
St Andrew's Episcopal School Honors Day, pictured with Stone's history teacher David Brandt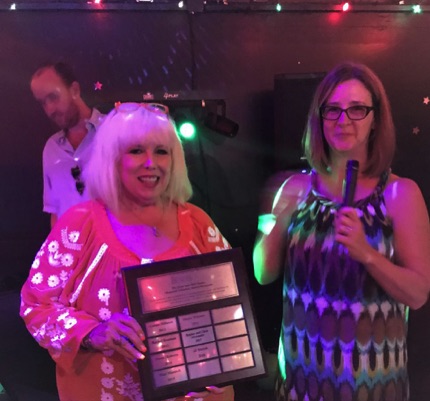 The Stone and Holt Weeks Foundation supports an eclectic range of meaningful causes -- all in the name of keeping alive the eclectic spirits and interests of our amazing sons, Holt and Stone. They so wanted to contribute energy and ideas to enhance our world and we, their parents with the support of many friends and supporters, are still trying to help them -- even after their senseless deaths.
To speak to the origins of The Foundation and showcase some of its wide-ranging work, we asked one of our steadfast friends, Holt's high school friend Caroline Lacey -- a sensitive and seasoned videographer -- to help. Please see the new video above.
****
Other news since the Spring Newsletter:
** St Andrew's Episcopal High School's 2018 Stone Taylor Weeks Award for Excellence in the Study of History was presented to Amelia Leahy. "The power of clarity of Amelia's writing and analysis stood out," says Headmaster Robert Kosasky, "even in a graduating class with a number of very strong history students." Amelia began attending the University of San Diego this fall. Previous History Awardees are here.
** Every summer, The Foundation provides support to Muscular Dystrophy Camps in Washington D.C. and Chicago, where Stone volunteered. The Foundation sends a generous grant to help sponsor campers, and this year added all proceeds from Walter Johnson High School's spring fashion show. Photographs from the Chicago area camp are here. Washington area camp photographs are here.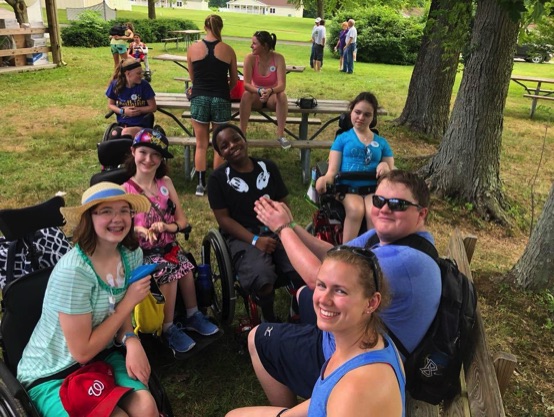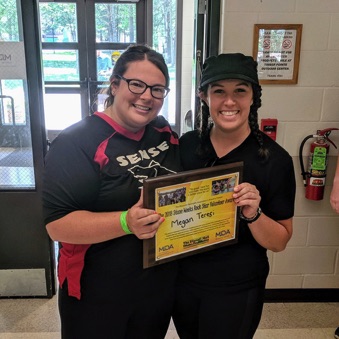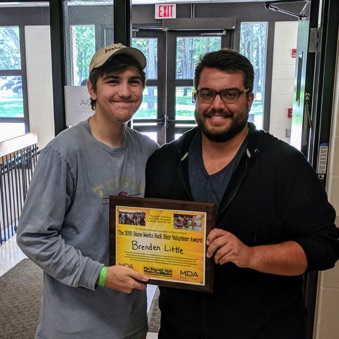 At the end of the sessions, Volunteer Counselor Awards are given in honor of Stone and of Holt. Hayley Opgenorth of the MDA Camp in Chicago writes that this summer: "We had a ton of deserving, first-year Rock Star Volunteer nominees, but in the end their peers voted Megan Teresi and Brenden Little as the winners. They truly exhibited the notion 'you can do good and have fun at the same time' – one of the many incredible qualities of Stone and Holt." Previous Volunteer Award recipients are here.
And Michelle Kocin of the MDA Camp in Washington says: "We had a great time at camp ... and the Counselor Volunteer Award was presented to Kristin Gobbi, who is a fourth year volunteer and was a cabin leader this year. While all our volunteers and counselors are great, Kristin is absolutely amazing and went above and beyond this year to know every single camper and make each one of them feel loved. She was very honored to receive the award." Previous Volunteer Award recipients are here.
** The 2018 We Kare-eoke *Houston* was organized by Stone's and Holt's dear Texas friends -- led by Jennifer Condi and emceed by Breen Eitel. The event was held in August at the Grand Prize Bar to benefit The Beacon of Houston day center, where Stone and Holt volunteered with Jennifer. We thank everyone who came out and supported. Photographs are here. Of the evening, Julie Falcon of The Beacon wrote: "Thank you so.... for this tremendous support in honor of Stone and Holt. We are so grateful to carry on their legacy at The Beacon and lift up our super star volunteers who help us serve Houston's homeless just as the boys did." The Stone and Holt Weeks Volunteer Award was presented to Beacon board member and volunteer JJ Stevak. Previous Awardees are here.
** The 2018 We Kare-eoke *Washington*, sponsored by Friends of The Stone and Holt Weeks Foundation in D.C., was held in October at the L2 Lounge. The fundraiser was organized by dear friends of Holt and of Stone: Nathan Barash, Rob Bouknight, Sarah Taylor Bower and Caroline Lacey. We are grateful to everyone who attended, sang, supported. Photographs are here. And a special thank you to Susan and Rob Park. Proceeds from the evening were directed to Audubon Naturalist Society to fund more nature field trips for underserved urban and suburban students at the Society's Woodend Nature Sanctuary where Stone and Holt both loved learning and exploring. Previous Scholarship Awardees are here.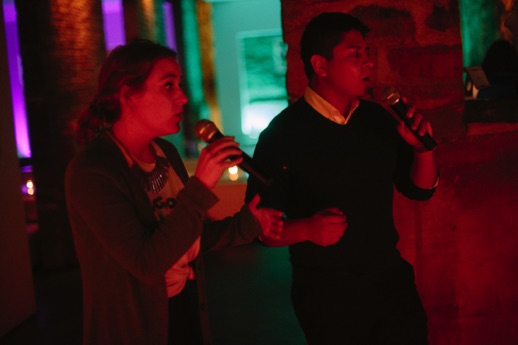 This year We Kare-eoke *Washington* was supported by Gold Sponsors Ace Beverage, Bouknight/Murphy, and SysArc; and Silver Sponsors St. Andrew's Episcopal School and Walter Johnson High School Friends. Compass sponsored printing costs.
** The 2018 We Kare-eoke *Delaware* will be on November 29 at Klondike Kate's Bar in Newark, Delaware. The event is co-sponsored by Stone's fraternity Pi Kappa Phi and Alpha Xi Delta sorority. Along with a generous Foundation donation, all proceeds from the evening will go to support Pi Kappa Phi's national charity The Ability Experience.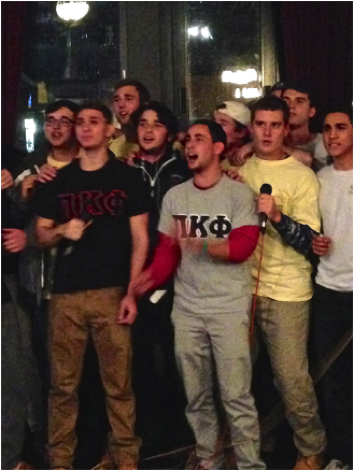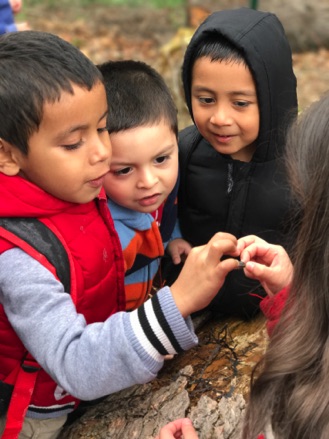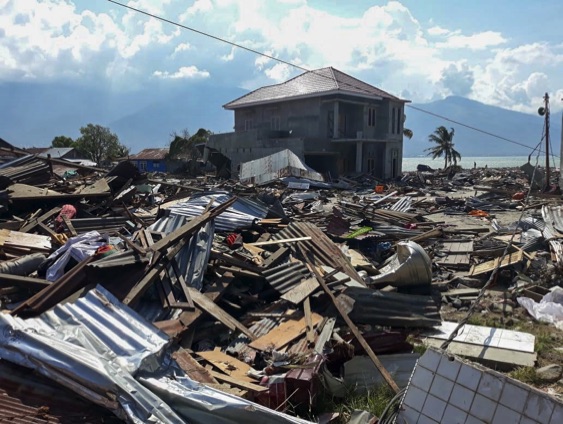 The Society's Director, Lisa Alexander, writes: "Thank you for your amazing and generous additional contribution to our Stone and Holt Nature Field Trips. It's so heartwarming to give these deserving children a chance to experience and fall in love with nature! ....We continue to be honored to provide these field trips in honor of Holt and Stone's love for the natural world."
Campers and counselors at this summer's Washington area Muscular Dystropy Association Camp
Megan Teresi, right,
with Cabin Leader Sarah Hedien
Brenden Little, left,
with Cabin Leader David Krone
Kristin Gobbi at the Washington area MDA Camp
We Kare-eoke *Washington* 2018
Students on the Spring 2018 Nature Field Trip
We Kare-eoke *Washington* 2018 Sponsors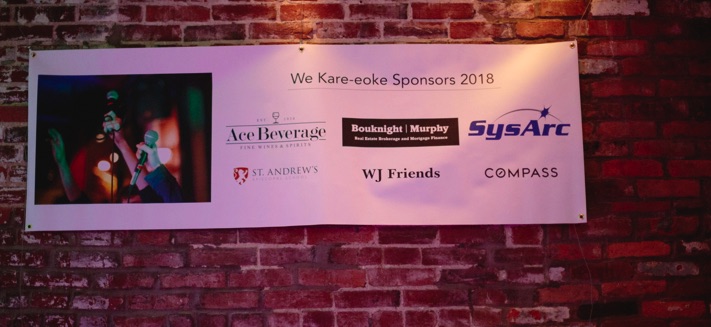 The University of Delaware Pi Kappa Phi's We Kare-eoke *Delaware*